Erin Alvey O'Sullivan, Actress
Blossoming starlet and singer / song writer, Erin Alvey O'Sullivan.
Marco Sullivan, Olympic Skier
Marco Sullivan

Alpine Skiing
2002 Olympian
2006 Olympian
2010 Olympian
Personal Specs
Height: 6'0"
Short List Performance
2002 Olympic Winter Games- ninth (Downhill), DNF (Super-G)

2006 Olympic Winter Games - edged in ski-off by Scott Macartney for Downhill berth

Three World Cup Downhill podiums - Chamonix (1st, 2008), Lake Louise (2nd, 2007), Wengen (3rd, 2009)

2000 World Junior Championships bronze medalist - Slalom

Four career National championships (Downhill - 1999, 2007; Super-G - 2002; Giant Slalom - 1999)
Personal
Sullivan began skiing on a gravel hill in his Lake Tahoe backyard at the age of 3 and was racing by 7. Sullivan excelled in football as a team captain at North Tahoe High School. He tore his left ACL on the final day of the 2000 World Championships. Training crashes caused him to miss the 2004 and 2005 seasons. His hobbies include fly-fishing, mountain biking, hunting, water skiing and surfing. His favorite musicians range from Johnny Cash to 50 Cent. His favorite food is a hamburger barbecued in his own backyard. He has worn the same San Francisco 49ers hat since he was 13.
Did You Know...?
Nicknamed "Sully"

During a two-year injury rehab, passed time by driving a Snowcat (a snow mover) and tuning skis at a shop in Truckee, Calif.

After winning the 2002 U.S. super-G title at native Squaw Valley, said: "If I hadn't won at home, I don't know if they would have let me back into town."

Lists Q-Tips as a necessity.
The Order of the Oak and Serpent 2009.
Vice Admiral William D. Sullivan
ATLANTA (July 25, 2009) Vice Adm. William D. Sullivan presents Navy veteran Michael Yamarino a quilt of valor during the banquet of honor during the Returning Warrior Workshop in Atlanta, Ga. More than 70 Soldiers, Sailors, Marines and their spouses attended the workshop, a national program supporting the ongoing effort to honor and educate those who have mobilized or deployed supporting overseas contingency operations. The workshop includes training sessions and exercises as well as providing attendees an opportunity for counseling in relation to their experiences during their deployment and since returning home. (U.S. Navy photo by Chief Mass Communication Specialist Dawn C. Montgomery/Released)
Vice Admiral Paul Sullivan USN
BOSTON (July 4, 2007) – New England Cable News reporter Greg Wayland interviews Vice Adm. Paul Sullivan, commander of Naval Sea Systems Command, aboard USS Constitution on her Independence Day turnaround cruise in Boston Harbor. The cruise from Charlestown Navy Yard to Castle Island, where "Old Ironsides" fired a 21-gun salute to Fort Independence, was just one of nearly 250 events scheduled during Boston Harborfest 2007 and the culmination of Boston Navy Week. The week is one of 26 Navy Weeks planned across America in 2007. Navy Weeks are designed to show Americans the investment they have made in their Navy and increase awareness in cities that do not have a significant Navy presence. U.S. Navy photo by Chief Mass Communication Specialist Dave Kaylor (RELEASED)
Chief Justice Roberts with wife, nee Sullivan
President George W. Bush walks with Judge John Roberts, his wife, Jane Marie Sullivan Roberts, and Associate Justice John Paul Stevens to the East Room of the White House Thursday, Sept. 29, 2005, where Judge Roberts was sworn in as Chief Justice of the United States. White House photo by Paul Morse
I'm a big scaredy-cat," Camille O'Sullivan declares, explaining how she first turned to singing.
It's not how one might describe a woman who abandoned a safe career in architecture after a serious car accident to pursue a not so stable life as a singer. But that's how the Irish-French singer sees herself. Audiences who witness Camille's stage antics – including being electrocuted and burned after wrapping Christmas lights around herself, stumbling over speakers and landing on glass, teetering on the edge of tables in heels – might disagree.

To read full Rock and Pop article please click on photo.
W. Stuart Symington, former Assistant Secretary of War for Air (1946-47) is shown taking the oath of office as Secretary of the Air Force from Chief Justice Fred Vinson. Left to right are: Mr. Symington, Secretary of the Army Kenneth C. Royall; Secretary of Defense James N. Forrestal; Chief Justice Fred Vinson; and Secretary of the Navy John L. Sullivan (1894 -1971).
Arthur Sullivan, circa 1919
Cropped portrait of Corporal Arthur Percival Sullivan V.C., a member of the AIF, who, later enlisted in the North Russian Relief Force, in the 45th Battalion of the Royal Fusiliers and gained his Victoria Cross for gallantry in rescuing under fire an officer and three men from drowning whilst fighting a rearguard action during a withdrawal across the Sheika River.
Brittany "McKey" Sullivan, November 26, 2008
Brittany "McKey" Sullivan, winner of America's Next Top Model, Cycle 11.
Canada now knows what Arnprior area residents have known for years. M. Sullivan & Son Ltd. is a well-managed company. In fact, it one of the top 50 best managed companies in the country. Repeatedly winning that award (seven years out of eight) has earned the Arnprior-based construction company the prestigious platinum award.

For full article please click on photo.
Charlotte Sullivan, September 2009
Charlotte Sullivan at the 2009 Toronto International Film Festival.
Michael Sullivan, 1898
Michael Sullivan was elected to the Senate and house of Commons, eighth Parliament of Canada on June 23, 1896.
Kid Sullivan, 1910
John L. Sullivan had competition for boxing fame within the clan. Although a bantam weight, Kid Sullivan was All-Canada champ for his weight division.
John L. Sullivan, the greatest boxer in history.
Library of Congress description: "The champion of all champions--'Hoping to deserve your appreciation, I remain yours truly - John L. Sullivan'. Illus. from: Supplement to Police Gazette, vol. LXXII, no. 1078, Saturday April 23d, 1898."
The USS Sullivans
At sea with USS The Sullivans (DDG 68) Jul. 25, 2002 -- The guided missile destroyer USS The Sullivans, part of the Kennedy battlegroup, transits the Mediterranean Sea. The Sullivans is named for five brothers who lost their lives in World War II during the Battle of the Solomon Islands. U.S. Navy photo by Photographer's Mate 1st Class Jim Hampshire. (RELEASED)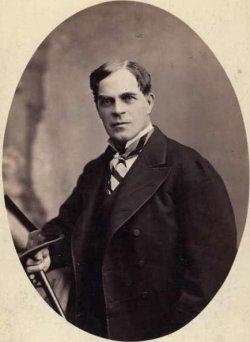 Thomas Barry Sullivan
Thomas Barry Sullivan, Australian actor
Captain Eoghan O'Sullivan
On April 4, 2010, it was a tale of two proclamations outside the GPO during the Easter 1916 Rising commemoration ceremony.
And as the sun shone and the chill wind blustered up O'Connell Street, Dublin, Captain Eoghan O'Sullivan read from the Irish Proclamation, that passionate call to arms forged amid the white heat of revolution 94 years ago.
His voice rang out over the silent crowd of over 2,000 who had gathered along the barriers. "We declare the right of the people of Ireland to the ownership of Ireland, and to the unfettered control of Irish destinies, to be sovereign and indefeasible," he pronounced, as side-by-side President Mary McAleese and Taoiseach Brian Cowen looked on.
Patron in Grand Salon of Dunderry Castle, seat of the Ó Súilleabháin MhicRaith sept, with noted California philanthropist, Barbara Culver Caster, after presentation of relic of Mother Teresa to the Chapel of St. Lucie. .
Jim Sullivan, singer
"If Jim Sullivan is a name you've never heard before, you're not alone -- he was always just on the edge of success. Sullivan released his debut album, U.F.O., in 1969 and played to devoted crowds at a regular gig in Malibu, Calif., in the early '70s. Despite hanging out with movie stars, fame eluded him. In 1975, he left Los Angeles, and his wife and son, to head to Nashville; he thought he could catch a break there. But Sullivan never made it to Tennessee -- somewhere in the New Mexico desert, he disappeared, never to be seen again. Now, U.F.O. has been reissued by a small label called Light in the Attic Records." NPR


Jim Sullivan shared these thoughts on the inside cover of his last album, U.F.O.:
"I was born Aug 13 which makes me a Leo I guess but actually my name is Jim Sullivan, 7th son of a Nebraska farmer that came to the big city during World War II to work in the defense plants."


"I grew up in a government housing project with a bunch of other Oakies and Arkies (…of all sizes and colors) in a fairly clean pile—"


"I decided that I would like to play music when I would sit and listen to the blues groups practicing around various houses—you could even hear the upright piano in the early electric blues groups…"


"I watched the guitar players studiously and then went home to practice "Oakie-Doakie Stomp" by Clarence "Gatemouth" Brown until I had grown callouses on my finger tips and brain."


"At the same time I was going to college and working (so what?). Anyhow me and another guy bought a bar near the college [and used] that for income. We damn near starved to death."


"The bar went broke and I went to work with a few different rock groups, the music got louder and louder. A few years of bangin around went by. I decided to move to
L.A.
and concentrate on writing and here I am…"